Lately, I've been taunted by the question "How flawed is too flawed when it comes to a fictional character?"
The following scene is at the heart of the issue for me.
"So what do you think of this place?"
Nick watched me with a heavy expression in his eyes; he wore the same look the night after the Riverfront show. It left me aching in low places, a feeling I tried my damnedest to ignore as I answered, "It's quiet. Kinda like Brayton at night."

Crawling onto the rock behind me, he slipped his hands over my shoulders and began kneading the knotted muscles beneath my prickling skin. But he stopped when my reply finally sank in. "Did you just compare Aspen to Brayton?"

My body shook with a laugh. "I suppose I did."
Silence stretched between us as his hands went back into motion. Elias filled it in with a seemingly endless string of empty chatter. He stood several feet away with his back to us, bringing to life a battlefield of sticks and rocks on the stump of a fallen tree.

"It wasn't all bad," I said as the sticks lost their stronghold. "Brayton, I mean. It had its good points."

Nick forced a short laugh. "But then you left and the place went to hell."

I angled my neck to tame his wit with a dubious look, but his grin captured me. He held my gaze until his smile faded and I could no longer read him. He lifted his hand to my face and swept his fingers against my jaw.
"Because you don't realize what you have til it's gone."

It didn't take a genius to understand he was no longer talking about Brayton. My mind skittered through memories of the day I moved out of our apartment. We were only roommates, only friends; I had no idea how much I'd regret leaving until I was gone.
H
e drew close, his lips grazing mine.
"I miss you."

I pulled back and turned away before Elias caught us, but it took every ounce of my will. "We can't do this. You're engaged."
"No, I'm not."
He forced a ragged breath.
"I can't marry Julie."
I whipped around.
"What? Why?"
"You have to ask?"
I closed my eyes and tried to unscramble the circuitry in my brain to draw a reasonable conclusion about what his news meant for me and Elias, if it meant anything at all.
"
We haven't spoken without arguing in almost three months.
The longer she and I are together, the less we seem to have in common. We
have different expectations of what our life together should look like. She doesn't understand or care to understand my feelings about Elias," he paused as he looked down before bringing his gaze back to mine. "And she's not you."
"I don't want to be the reason you leave her."
He raked his fingers through my hair. "You don't get to say that, baby. Not after what happened on the Fourth of July."
"Nothing happened."
His body jerked as he scoffed. "Yes, something did happen." He scooted into the spot beside me and curled his hand around mine. "And I can't get it out of my head."
So what happened?
This is one of the before-the-book scenes I wrote while mulling the characters in
THE LONG ROAD TO HEAVEN
. I make a couple of brief references to this night in TLR2H.
Both are deliberately vague. Whatever it was, it was the beginning of the end of Nick's engagement to a cover girl.
But
it
is vague because I've never made a decision about what
it
is.
Was
it
a couple of intense kisses? Was
it
like that old
Elvin Bishop song
? Was
it
more? Does
it
make a difference?

If I decide to polish and release the prequels I've written -- an idea I'm seriously considering -- then yes. It could have a huge impact on readers' perception of Nick.
Cheaters, after all, are viewed as cads. It's difficult for a hero to be a cheater. On the other hand, the best characters are flawed characters.
So the question is, "How fine is the line between flawed and nonredeemable?" That and "What is
it
?"
I'm pretty sure I know what
it
is, too. I just hope no one asks me anytime soon.
***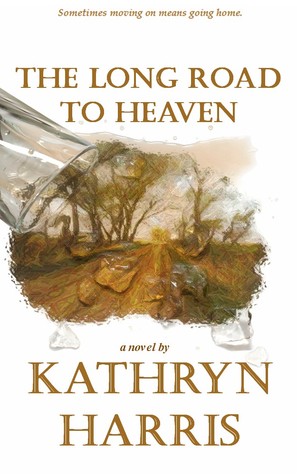 Enter Giveaway
/Buy Kathryn Harris' high-concept contemporary novel
THE LONG ROAD TO HEAVEN
now through Amazon in digital download for Kindle for only 99 cents or in paperback.